Brothers joins the UCF Family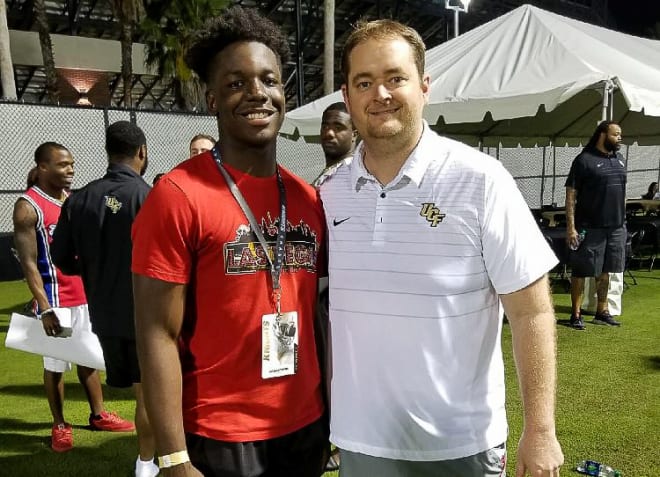 UCF's commitment train continued to roll on Tuesday with the addition of Octavius "O.C." Brothers Jr.
The Rockledge linebacker had the Knights at the top of his list since picking up an offer in February and decided to make things official by jumping on board.
"I've been all UCF since when they offered me," Brothers said. "I knew they were coming off a great season and already liked the program in general, but when I visited for the Junior Day it just really felt like a family. It felt like home. They made me feel like I was already part of the team. It's really something that was going through my mind a lot. Even when I'd get other offers, UCF was hitting me up constantly, saying how much they want me there. They've always been my top school. I decided to seal the deal tonight."
Brothers, who visited UCF again this past weekend for the 7-on-7 tournament, sat down with his coach earlier in the day and they decided the time was right to make a commitment, placing a call to head coach Josh Heupel and quarterbacks coach Jeff Lebby.
"I talked to the coaches and they were really happy," Brothers said. "They welcomed me with open arms."
UCF sees him as a weakside linebacker.
"They said they like the way I play, just how aggressive I am," Brothers said. "How I'm fearless. I run down and hit people with no hesitation. I play really aggressively and play with an attitude that not many people have."
Brothers also said he's excited to work with defensive coordinator Randy Shannon, who he's met on several occasions while on unofficial visits.
"I really like the fanbase," Brothers added. "They have a really hype fanbase. I went there for the spring game and the football team was really hyped up, the football staff, everybody. I really like them from an academic standpoint. They have a high graduation rate. They really care about the student aspect as much as the athletics. They want you to succeed in life and football."
Brothers, who is leaning towards majoring in business, becomes UCF's eighth overall pledge in the 2019 class.
"My whole family is really excited," Brothers said. "They've been with me on my visits and they liked the coaches as much as I did and really liked it from an academic standpoint. They're really happy."