Enders set UCF Softballs pitching tradition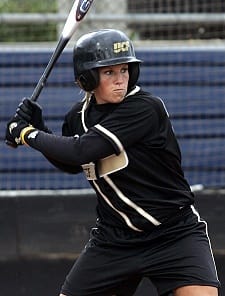 Before there was
Ashleigh Cole
beating ranked teams such as Tennessee, Alabama, and Ohio State or before
Allison Kime
led the program to a Conference USA Championship and wins over South Florida and Florida in the postseason, there was
Lindsay Enders
who helped UCF win its first conference championship five years ago.

Before coming to Florida, the Virginia Beach, Va. native played softball at Kempsville High School where she was recognized as the Virginia Beach Player of the Year in 2000 and 2001. Following high school, Enders attended Daytona Beach Community College for one semester before transferring to North Florida Community College, where she earned All-State honors in 2002 and a year later would help her team win the 2003 Panhandle Conference Championship, the Gulf Coast Region Championship and the 2003 State Championship.
"I knew as soon as I picked up a bat and ball that softball was the sport for me," Enders said.
Enders joined the UCF program in 2004.
"Initially I was interested in UCF when I went to Daytona Beach Community College mainly because it was in Central Florida, a beautiful school," Enders said. "I wanted to come in and help start the softball program."
Enders went 20-8 in her first season at UCF with a 1.59 ERA. By 2005, she was established as the team's ace.
"She came ready to play," said former Knight shortstop
Stephanie Best
. "She was not taking anything from anyone. She had that drive and mentality on the mound. Any defensive player wants to play behind her."
Enders had a strong senior season with a 26-14 record and ERA of 1.83, earning wins against nationall ranked Washington as well as wins over DePaul and Georgia Tech. She also earned a win in Tallahassee against Florida, marking the program's first win against the Seminoles.
Enders went on to make the All-A-Sun first team and the NFCA All-Southeast Region second team.
"Lindsay was an incredibly focused and a self motivated pitcher," said former UCF catcher
Cat Snapp
, who was a freshman during Enders' senior season. "She was very strong mentally and didn't let anyone get in her head."
The defining moment for Enders would come in the 2005 A-Sun Tournament. She began the tournament by defeating Lipscomb and helped her own cause by ripping a go-ahead, two-run double in the sixth inning to give UCF the 3-1 win.
After a loss to Florida Atlantic knocked UCF to the losers' bracket, the Knights eliminated Jacksonville and faced FAU once again with the winner going to the championship game. With UCF down 2-0 in sixth inning and the season on the brink, Enders hit a double into center field, scoring Best and Amber Lamb, to tie the game at 2-2.
Enders would end up going nine innings on the mound as UCF knocked off their rival, FAU, 3-2 to advance to the championship game against Troy.
"She was at her best in the A-Sun Tournament," said former UCF outfielder
Ashley Van Ryn
, who was a teammate of Enders that season and like Snapp played from 2005-2008 and was part of UCF's two conference championships. "She kept the players guessing at the plate and always gave us a chance to win. She was our ace and showed it in the tournament."
UCF was faced with the task of having to beat Troy twice on same day and would ride Enders' arm as she would start and complete both games of the doubleheader as the Knights defeated Troy 2-1 and 3-1 to win the Atlantic Sun Championship and advanced to the NCAA Tournament.
"She was just dynamite out there in circle," UCF head coach
Renee Luers-Gillispie
said. "It seemed like every inning she threw she just got stronger and stronger. She just threw on guts and heart during the tournament."
Ender won tournament MVP honors as she pitched in all but four innings of UCF's six games in the tourney and giving up just two earned runs on nine hits in the two games against Troy.
"Lindsay's performance was not only impressive from a physical standpoint, it was more impressive from a mental approach standpoint," said Matt Dunaway, who was the play-by-play voice and SID of UCF in 2005. "The will and desire she possessed was the difference maker in those games as she had to throw tough pitches and battle. She will always be remembered as the one who did the impossible-- winning three games in two days to put UCF Softball to a place it never had been before."
Enders and Knights traveled to Gainesville for the NCAA Tournament where they would go 1-2, losing to South Florida to open the regional then knocking off the host Florida Gators - ending their season - before UCF's own season would come to an end against USF.
Enders would become first UCF pitcher in program history to beat both Florida State and Florida in same season, which was only matched by Kime in 2008.
"She was a type of pitcher that would punch you in the mouth, then when you step back in batter's box she'd punch you in the mouth again," Dunaway said.
Enders went on to play professional ball overseas in the Netherlands for one year before retiring some softball. She is still involved in the sport as she runs a softball training academy in Virginia Beach where she now lives.
"I never knew how many of my dreams could come true through softball and playing at UCF," Enders said. "Softball took me to different places from the whole east coast to the west coast and then to Europe to play professionally. There are not many dreams that haven't come true through softball."
While many of Enders' records have been broken in the five years since her last pitch as a Knight, one record that cannot be broken is the impact Enders had on UCF as she set the standard for future success on the mound.
UCF Softball on the Quest for another Conference USA Championship: The Knights will travel to Texas this week to participate in the 2010 Conference USA Championship hosted by the Houston Cougars. The Knights (33-20) earned the No. 3 seed in the tournament, which get underway on Thursday, May 13 and up first for UCF will be No. 6 UTEP (a team they just swept) at 2:30 p.m. EST.