Matt Lee flips from USF, commits to 'dream school' UCF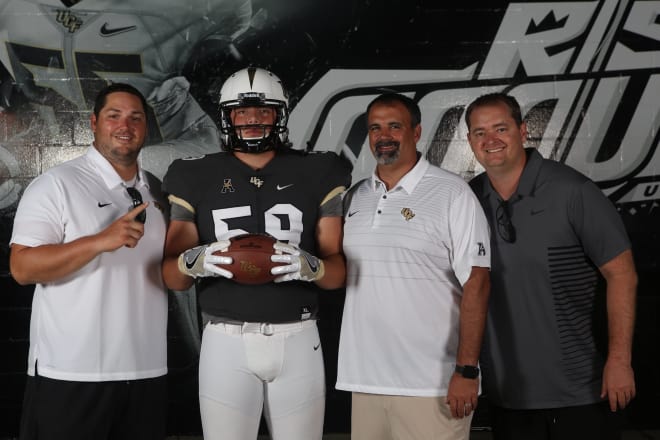 As a kid, Matt Lee dreamed of suiting up for the hometown team. His childhood memories are filled with trips to UCF where his family cheered on the Knights.
Now an offensive lineman at Oviedo (Fla.) Hagerty, that dream has come true.
Capping off a whirlwind month that first saw the 6-foot-3, 285-pounder commit to USF only to reel in an offer from UCF days later, Lee made the flip official on Monday night.
"I've always been all UCF," Lee said. "My dad (Mike) went there in the 90s. I've been a huge fan forever. My sister goes there now. We go to a lot of the games. We went to the Peach Bowl in Georgia which was awesome. Basically as far as I can remember, I've always been a UCF fan."
Some of his fondest memories revolve around the 2013 season when another Oviedo native, Blake Bortles, led UCF to its first major bowl win.
"That was a great team, seeing the big Fiesta Bowl win against Baylor" said Lee, who was in seventh grade then. "That was the first season I remember that I got really involved by watching a lot of UCF games. We've gone to a lot of games over the years, including the Peach Bowl this past season."
On New Year's Day in Atlanta, Lee wasn't quite sure how his eventual recruitment would unfold. His first offer came in March from Air Force. Army followed shortly thereafter along with top FCS schools like Harvard, Yale, Cornell and Columbia. USF came through in late May.
With a UCF offer yet to materialize, Lee didn't want to risk losing a spot at USF so he committed to the Bulls in early June. But he was still scheduled to attend UCF's camp a couple weeks later with the goal of earning that offer.
"I knew Coach (Glen) Elarbee and Coach (Josh) Heupel were watching me," Lee said. "I dominated out there. They let me know that I did. Coach Elarbee was talking to me during the camp, so I knew I was doing good. They let me know that I really impressed them."
Lee was instructed to call Heupel the following night.
"He first told me a little bit about the program and about himself, asked me a couple things," Lee said. "We talked about the camp and he said, 'You got an offer.'"
He thought about committing on the spot, but thought it was best to take a little time given he had made that prior pledge to USF.
"I wanted to wait a little bit just to make sure I was in the moment," Lee said. "I think I knew right away, but just wanted to give it a couple days. I visited against this past Saturday. That was a great visit. On the previous Saturday, after the camp, I was able to tour the campus with Elarbee and talk to him, but with the 7-on-7 going on I didn't get to talk to Coach Heupel that much. This Saturday I did a little bit more touring and sat in some positional stuff with Elarbee, then I talked with Heupel in his office for like an hour. That was awesome. This past Saturday definitely solidified things."
How did the conversation go with Heupel?
"I definitely got to know him a lot better," Lee said. "I really like how he carries himself. He talked about the program and how good we're going to be in the upcoming years. I know we're going to do great this year and just continuing beyond that."
Lee also valued his growing relationship with Elarbee, who will be his future position coach.
"I know he's one of the best offensive line coaches in the country," Lee said. "I really got to know him on the camp day. He coached me during the drills which was great being able to work with him one-on-one in a coaching setting rather than just talking during a visit. On the visit this past Saturday we broke down my spring game film. He talked about how they call plays and watched some of their spring practice film. He said he thinks I'll be a center or guard. I could fit in great at center, being so athletic. He said he reminds me of a redshirt freshman center he had at Missouri (Trystan Castillo) and showed me some of his film."
Center would be a new position for him.
"I've never played center actually," Lee said. "I can snap it pretty good in practice and I plan on working at it a lot. I'm a tackle at Hagerty. We've got a single wing with a lot of power run, no passing. I'm the outside tackle. That's what I've always been. I know I wasn't going to play tackle at the next level, so center or guard is perfectly fine with me."
He actually has a family connection to the position. His second cousin is Alex Galvez, who played center for UCF in the mid-1990s.
Lee told the coaches on Saturday of his plan to commit, but he needed to let the USF coaches know first.
"It was a little tough," Lee said. "But I told myself it was in my best interest. At the end of the day it's business. It happens every year. Once I got that in my head, I just went ahead and did it."
He spoke with the UCF staff again on Monday night.
"Everybody was excited," Lee said. "I just talked to Coach Heupel, Lebby and Elarbee. They seem pretty pumped up. My whole family is very excited too. My dad... but me also. It's just a dream. UCF has always been the dream school."
Lee is UCF's 10th commitment in the 2019 class.