Speedster Justin Menard commits to UCF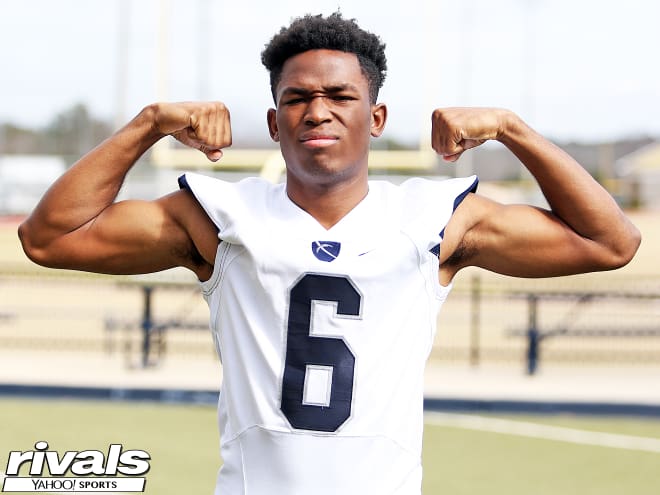 UCF's future offense just got a major injection of speed.
Justin Menard, who runs a 10.4 in the 100 meters, committed on Monday choosing the Knights among an offer list that included North Carolina, Louisville, Baylor, Cincinnati, Georgia Tech, ECU, Maryland, Rutgers, USF, West Virginia, Missouri and several others.
The 5-foot-11, 177-pounder from McDonough (Ga.) Eagles Landing will be utilized as a wide receiver in Josh Heupel's system. He had visited UCF on June 7 and had been favoring the Knights since that trip.
"I'm actually from Florida," Menard said. "I'm from Miami and really wanted to get back to the Florida area to be closer to my family. The UCF coaches showed me a lot of love. I really like the area. I told them straight up that it was between UNC and UCF, but I wanted to wait to compare the schools."
After his recent visit to Chapel Hill, Menard was ready to officially make the decision. His primary recruiter throughout the process was Nick Toth, UCF's special teams coordinator.
"I called Coach Nick the day after I visited UNC and told him that I'm ready to commit," Menard said. "He was very excited. He was putting his four-year-old to sleep and I think he woke them up. I talked to all the coaches. Coach Heup was excited, telling me now it's time to get to work."
UCF's offense, particularly Heupel's track record for posting big numbers, pushed the Knights to the top of his list.

"I was really excited about the kind of yardage they put up," Menard said. "They're going to put up a lot of passes which is great for receivers. I'm on a team now where we just run the ball all day. We don't get to touch the ball too much. I didn't really want to go to a team that mostly runs the ball. They said they'll pretty much always have 3-4 receivers spread out. They said they see me as a deep threat. I actually run a 10.4 in the 100 meters. I'm very fast and can get behind cornerbacks. I'll play slot when I get there, run digs and out routes. Just get out there and run."
What impressed him the most about his visit?
"Actually, I really liked how friendly the players were," Menard said. "I took my little brother down there - he's two - and we walked into the locker room and he was playing with all the other players in there, like No. 17 Marlon Williams. He was great with him."
Menard, who plans to major in computer science, says he'll definitely return to Orlando this season to attend a home game or two. He becomes UCF's seventh commitment, joining quarterback Charlie Dean, wide receiver Ryan O'Keefe, linebacker Tatum Bethune, wide receiver Amari Johnson and offensive linemen Allan Adams and Marcus Finger.