UCF-USF rivalry to extend beyond the field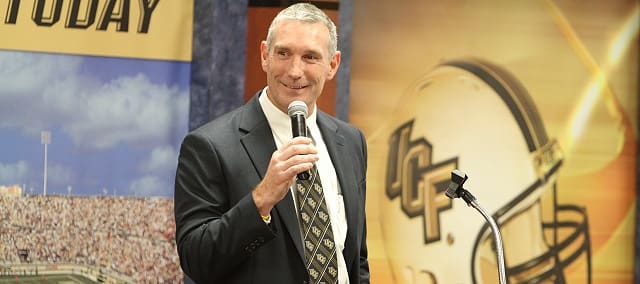 One of the biggest selling points of the new American Athletic Conference will be the annual rivalry between UCF and USF.
League commissioner Mike Aresco has constantly touted the series' potential, particularly in football, where it's conceivable to believe the two schools will become the American's pre-eminent gridiron powers given their Florida recruiting base and other natural advantages.
UCF-USF will also be the largest annual rivalry in terms of combined enrollment, which is something that will certainly resonate inside the state if not nationally.
It's an opportunity that hasn't gone unnoticed by school officials, who are working together to coordinate year-long events that would extend beyond the athletic contests.
"Looking at the new league, one of the best things about it is we'll be in the same league as USF," UCF Director of Athletic Todd Stansbury said. "It gives us an opportunity to develop a natural rivalry on a national level. We're working with them to make it not only a gameday rivalry, but a 365-day rivalry where it's all of our sports and our alumni. We're looking at things like competitive blood drives, community service projects and how we can engage our fans year-round in some good, friendly competition. We really want to develop a rivalry that is going to be recognized for not only what we do on gameday, but what we do every day."
UCF officials are continuing to meet with their counterparts at USF to coordinate the details of the plan. A name to brand the rivalry is very possible. An annual trophy would be awarded to the school that wins the most points, which would incorporate athletic results as well as the alumni competitions.
"The idea is to have a 365-day rivalry using athletics to promote both of our regions, our business community and political community," Stansbury said. "There's so much synergy between Central Florida and the Tampa Bay area. We want to use this as an opportunity to elevate our profile to the rest of the country.
"We've talked about community service projects and the blood drives, and we've even had a discussion about doing a Ryder Cup series where alums compete against each other around the state. Points would be earned by our fans and alums that would go towards the point total for whatever we're going to win. It's a pretty exciting project that I think is going to be a lot of fun."
After a four-year hiatus, the football rivalry resumes this fall at Bright House Networks Stadium with a nationally-televised "Black Friday" matchup on Nov. 29. The last meeting on Sept. 6, 2008 set a then-Bright House attendance record of 46,805.