Grad transfer Bailey Granier ready to make an impact at UCF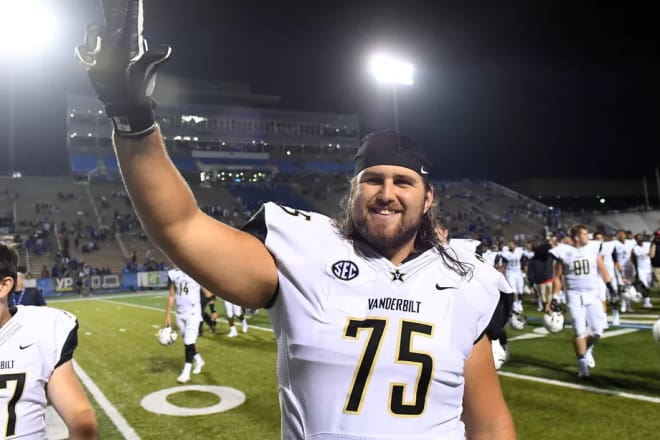 UCF's offensive line just received a big boost for 2018.
Bailey Granier, a graduate transfer from Vanderbilt, announced earlier this month he will play his final year of collegiate eligibility with the Knights. The Louisiana native had been verbally committed to Tulane, but had a change of heart after taking a visit to Orlando.
The last 10 days have been a whirlwind for Granier, who has already reported for Summer A.
"I announced my decision last Thursday (May 10), graduated from Vanderbilt on Friday, packed up my stuff on Saturday, moved to Orlando on Sunday and enrolled in classes on Monday," Granier said.
Granier (6-6, 316) was regarded as a top reserve during his three-year playing career at Vanderbilt, starting a trio of games as a redshirt freshman in 2015 and making two more starts in 2017. He was injured for a portion of his redshirt sophomore season in 2016, but returned to help the Commodores reach a bowl game.
When he made the decision to transfer following the season, Granier initially decided on Tulane which is a short distance from his hometown of Galliano, La. But as his spring semester began to wind down, he began to have second thoughts.
"It was an extremely quick process," Granier said. "I began speaking with (offensive line coach Glen) Elarbee and coach (Jeff) Lebby, then I started speaking with (head coach Josh) Heupel. It all happened in a two-week time period. I visited weekend before last. I thought I was a pretty solid in my decision (to go to Tulane) but I was open minded.
"Early on, UCF was a school I had a lot of interest in when I decided back in December that I wanted to do the whole graduate transfer process. One reason for that is UCF has had a lot of success. I felt it was a place I could go and make an impact. I really like Orlando. It's a fast-growing city, similar to Nashville in a lot of ways. Awesome city. Great people. It's in the South, which is another good thing. I came away from the visit very impressed with the professionalism of the entire staff, just how knowledgeable and committed they are. There's a great culture around this place."
Granier said UCF's staff was one of biggest factors in his decision.
"Coach Elarbee is a great guy, very down to earth," he said. "Very honest. Everything I look for in a coach. He's knowledgeable and not afraid to get after you. I definitely appreciate that. We talked a lot about how I would fit into this team and how they do things. I really like the offense they brought over from Mizzou. It's one of the things that attracted me too. He's just a good guy beyond football. He's a got a family, a wife and kid. Real family guys. Coach Lebby is the same way. He just had a daughter that was born a week and a half ago. Same with Coach Heupel. He's a first-time head coach, but doesn't seem like it at all with the posture he has and just his professionalism. I was really impressed."
The anticipation is for Granier to make an immediate impact on the offensive line, wherever that may be. He made his starts at Vanderbilt as a right tackle, but throughout the course of his career played every position on the line except center. The Knights graduate two starters from last year's team and saw No. 1 right guard Sam Jackson suffer a likely season-ending knee injury towards the end of spring practice.
"I know they're looking for the best five guys on the field," Granier said. "I do know they have younger guys that are getting there. I'm projected as a tackle, but if one of the younger tackles is coming along faster and is able to perform, I can bump over to guard. I'm comfortable at both. Whatever I've got to do to help this team win another conference championship and national championship. I don't want to come off as cocky, but we've got a lot of pieces here with great leadership. You never want to take a step back."
Granier was very aware of UCF's perfect season in 2017 and wants to keep things rolling.
"I'm a big college football guy," Granier said. "I'm a guy that wants to be a coach one day. I love watching football when I'm not playing it. You can't help but notice a team that is going undefeated and becomes National Champions. I'm 100 percent with them on that. You go undefeated and win every game, beat Auburn and some very talented teams in this conference. I definitely buy into the Power Six and that's coming from a guy that played in the SEC. I know what the competition is like there, but the American has got some very talented teams too, like Memphis, USF and Houston. I played against Houston. I've played against and seen these teams play. The American has a different style compared to the SEC. They might spread it out more and go a little bit faster. I feel the (College Football Playoff Committee) should have given them a harder look. I guess you've got to keep proving your worth. There's always going to be people who hate. As young as UCF is, I think what they've been able to do is substantial."
Granier graduated from Vanderbilt with a degree in disability studies and plans to pursue a graduate degree at UCF in education leadership.
"It's a one-year program that I can get finished in the year I'm there," he said. "I'm taking a few classes over the summer with a decent load in the fall and spring. UCF also has some online courses which makes it pretty convenient to fit into the schedule."
He'd love an opportunity to play in the NFL, but beyond that a career in coaching could be his future path.
"There are two things I'm really passionate about - working with young people and football," Granier said. "Coaching is a happy medium of my passions. I love the game, everything about it. I love the idea of helping kids reach their goals. College football offers amazing opportunities, awarding scholarships to those who may not have been able to go to college or afford it. It can change lives, not just for individuals but for entire families. It's very powerful. I'd love to be able to help young men develop all the while coaching football."
Team goals - not personal goals - are all he's worried about as he looks ahead to 2018.
"I've always believed personal success comes through team victories," Granier said. "If we're winning games and dominating people, I think the individual accolades will come. Focus on the vision and the mission."