Pittman flips from Ole Miss to UCF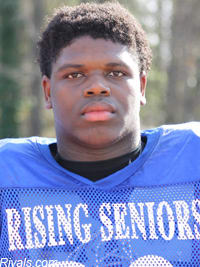 The three-star had been committed to Ole Miss since last spring, but began looking at other options after the Rebels suggested he take a grayshirt after he broke his leg earlier in the season.
He visited for the Houston game on Nov. 9 and has been very pro-UCF on Twitter, often interacting with the other commits from Georgia.
"I really like the program," Pittman said. "They're together, they work hard and it's a good coaching staff."
"We have a real good relationship," Pittman said. "He's from Tifton, which is right up the street. He was real excited when I told him."
Pittman said another positive about UCF is that he'll feel right at home. Eight of UCF's 14 commits in the 2014 class are from Georgia and six of those are from the southern part of the state.
Colquitt County played Miller's team during the season, but Pittman didn't play because of the leg injury.
"He was congratulating me, asking me what number I'd like, if I'm ready to work, stuff like that," Pittman said.
Like the rest of the commits, Pittman was pumped to see UCF's 52-42 victory against Baylor in the Fiesta Bowl.
"I watched it," he said. "They really didn't surprise me. I thought they were going to win. I was real happy for them."
Pittman is excited about what the future holds.
"UCF is a great program," he said. "They're getting new facilities too, a lot of new buildings. It's a great place to be."
He said his family was supportive of the decision. It's only a three and half hour drive to Orlando.
Pittman believes he'll be 100 percent by the summer and hopes to make an early impact.
"Coach Zo has said if I'm ready to play, I'll play," Pittman said. "My goal is to start."
Florida, Georgia Tech, Mississippi State, Kentucky, Miami and NC State previously offered him.
"I'm done with recruiting," he said. "I'm signing with UCF."
Pittman has yet to finalize his official visit, but he believes it's likely going to be the weekend of Jan. 24.