QA with Michael Lynche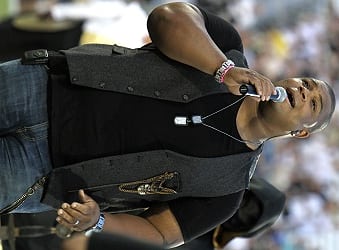 American Idol finalist and former UCF football player Michael Lynche returned to campus this past weekend to sing the National Anthem before the NC State game and prior to the contest he signed autographs for fans.

Mike, you just sang the National Anthem here before the NC State game. What was that like, singing this before your alma mater?
"It's amazing, man. To be able to do it on a special day like September 11 and also today is my mom's birthday. It's a big deal to me. When I saw that I was going to be able to come do it on this day where my schedule would link up, it was just a no brainer for me if they would have me. It's crazy to be back. It's surreal almost, especially to be on this side. I used to be down there fighting and scratching in the dirt."
When you were down on the field did you have any memories there? Like maybe if you had one more tackle left in you?
"It was cool, but my memories are in the Citrus Bowl. In my head it's a lot different. The field was much more pitched. My memories are different, but this is cool to be a part of something new and fresh. Really this is what we had thought about when they recruited us. When they recruited my class and recruited the classes before me, this is what we thought what the program could be, so to see it is great.
This is your first time back? What do you think of the new stadium?
"This is like top notch, man. You would expect nothing less. It's good."
Talk about your playing career. What stands out when you reflect on it. What jumps out? Any games or moments?
"Going to some of the crazy stadiums we played in. Playing against Penn State in Happy Valley. Clemson in Death Valley. Playing against Virginia Tech up in Blacksburg. That was outstanding. You could feel the pride and you wanted that for your school and your team too. Now I think we really have a chance, especially with it being on campus, you really have a chance to get that kind of school pride and get people to really be proud of where they're from and where they went to school."
That Clemson game, you almost had that game. Woody Dantzler at Clemson, a back and forth game, Alex Haynes playing his first game. You came close, then against Syracuse in the Carrier Dome.
"We came close in a bunch of games. I think that we were in a building process. We'll see how that continues to go. I think these guys have a chance to be great this year. I remember a few years ago when I was watching Kevin Smith in 2007. It was just amazing."
Smith rushed for over 2,000 yards and UCF won a conference championship. What was that like from now someone who played in that program, part of that building block?
"It was awesome because we always talked about things like that when we first got into the MAC. To see a good conference like Conference USA and to win that, it was just outstanding."
It's obviously been a crazy time for you with American Idol. How has that changed your life?
"In every way. It really is the most outstanding year of my life. Most life changing. I had my daughter this year as well. My life is 100 percent different."
How would you compare performing and singing in front of a crowd as opposed to playing football in front of a crowd?
"It's the same. Preparation and the things I learned from football and that feeling of an adrenaline rush you get, but your body is not as achy when you sing. You wake up feeling a with little bit more pep in your step I guess."
Do you keep in touch with some of your former teammates?
"I do. It's funny because I got to hook back up with Elton Patterson, who was outstanding when I was here. Larry Brown, we've kept in touch. DeMarcus Johnson. And Asante Samuel a little bit as well."
You follow this program I assume as much as possible. What's your expectation down the road for this program?
"Just keep winning the conference. I want to keep seeing them put guys in the NFL and go on to have careers after this. You want to see the success of it, regardless of what that ends up being. I'm sure everybody would love to win a national championship, but we've got work to do. I'd love to see the program really get on the national scene."
Many Knight fans followed you on American Idol. What's next for you?
"I'll be performing a bunch here in Florida and around the country as this year winds down. I'll be putting out an album probably at the beginning of next year. I'll be on a bunch of different things. I've got some TV shows and there's some stuff in the works as well. Kind of everywhere."