UCF's Top 20 Most Memorable Games at the Citrus Bowl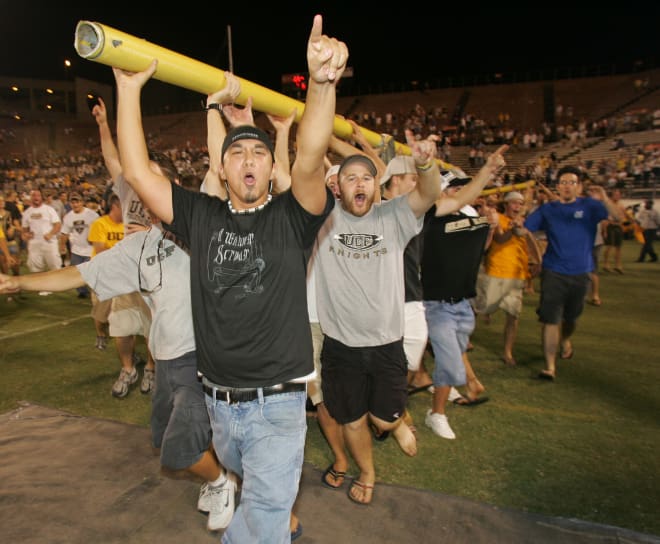 You always remember your first home. For UCF, the Citrus Bowl is where they grew up.
From the program's inception in 1979 all the way to 2006, the Knights played 171 games at the downtown venue before moving on campus with the construction of Bright House Networks Stadium in 2007.
On Saturday, UCF goes back to where it all began when they take on Arkansas State in the Cure Bowl.
A lot has changed in 10 years. The venue underwent massive renovations several years ago, making most of the stadium unrecognizable from the one UCF used to call home. It has a new name too - Camping World Stadium.
Take a trip down Memory Lane with a look back at 20 of the most memorable games of UCF's Citrus Bowl era.
UCF vs. Fort Benning - Sept. 29, 1979
Win, 7-6 (Attendance: 14,138)
I'm not sure how many UCF fans today can say they were there, but I'm sure the 14,138 that attended the Knights' first ever home game at the "Tangerine Bowl" on September 29, 1979 will never forget the experience. Just a week after their memorable first ever win at St. Leo in what was described as a "cow pasture," UCF defeated Fort Benning (the army base in Georgia) in a 7-6 defensive battle. UCF would finish 6-2 that year under head coach Don Jonas, who coached the Knights through the 1981 season.
UCF vs. Bethune-Cookman - Sept. 7, 1985

Win, 39-37 (Attendance: 21,222)

1985 was a critical season for the UCF football program. The athletics department was more than $1 million dollars in debt and there were concerns that the football program's days could be numbered. UCF looked to Florida State assistant coach Gene McDowell (who also was FSU's first All-American) to take over the struggling program, heavily in turmoil after a difficult two years under Lou Saban.

McDowell, who doubled as both athletics director and head football coach, began the process of righting the ship both on the field and in the budget. It wasn't a great year record wise - UCF finished 4-7 - but the first game of the season was one to be remembered. The Knights, who had never beaten Bethune-Cookman, did so for the first time when they defeated the Wildcats 39-37 on an Eddie O'Brien 55-yard field goal as time expired.
UCF vs. Troy State - Sept. 17, 1988
Win, 26-18 (Attendance: 31,789)
In 1988, the Knights were beginning to establish themselves as a contender at the Division II level after having made the playoffs for the first time a year earlier, a run that was ended by Troy State.

The Trojans, who went on to win the Division II national championship in 1987, came back to the Citrus Bowl in a regular season contest the following year. A record crowd of 31,789 came out to see UCF get a little revenge as the Knights won 26-18.
In UCF lore, it's known as the "Noise Penalty Game" as the home team was flagged for delay of game because Troy coaches complained about excessive crowd noise.

After the win, UCF climbed to a No. 2 ranking in Division II. The rest of the season didn't go so well. UCF lost their final four games and missed out on the playoffs, but still had the memory of winning a big home against a budding rival.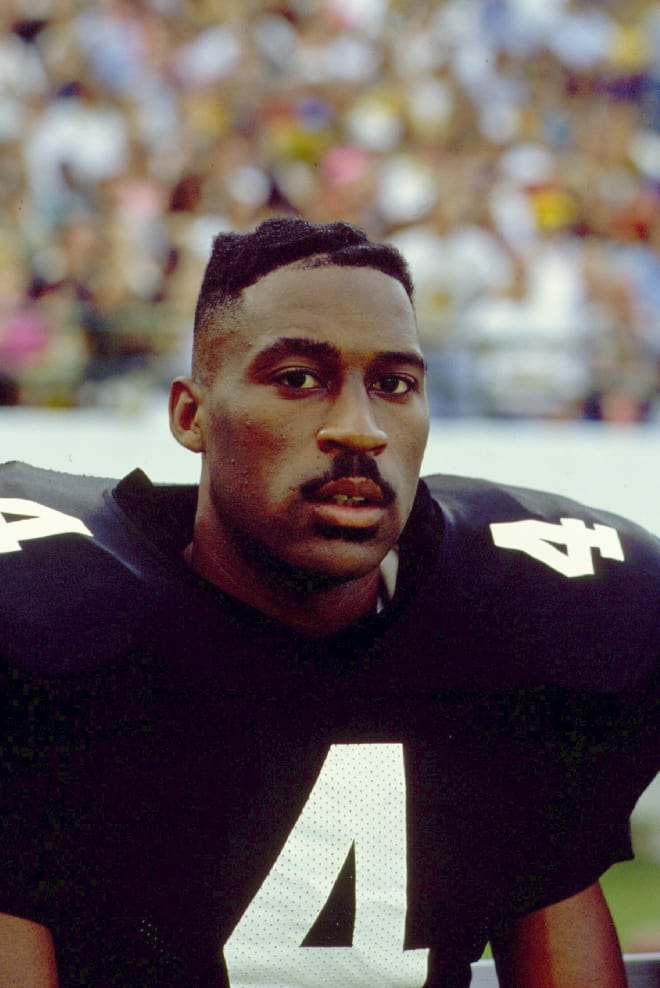 UCF vs. Texas Southern - Nov. 17, 1990
Win, 63-6 (Attendance: 16,328)

It was a Senior Day Sean Beckton would never forget.
UCF, which had elevated to Division I-AA that season, was looking to improve to 8-3 in order to make their best case for a playoff berth. Beckton, who already held most of the team's receiving records, just wanted to get one more win. He didn't know he would break a NCAA record.
During the course of UCF's 63-6 victory against Texas Southern, Beckton scored a touchdown four different ways. It hasn't been done since.
"For me as a player, I'll always remember what I thought was going to be my last game," Beckton said. "It resonates that I set the NCAA record which is still there. Throwing a touchdown pass, running in a touchdown, catching a touchdown and running a punt back. In that situation, I didn't know if it was my last game or not. I wanted to perform and play the best I could for my teammates, send our team out on a high note against Texas Southern. It just so happens that I set a record."
UCF vs. William & Mary - Dec. 1, 1990
Win, 52-38 (Attendance: 20,067)

Few expected UCF to be in this position.
As the last team to be selected for the I-AA playoffs, the Knights drew a road date at undefeated and No. 1 Youngstown State. But UCF shocked the Penguins on a last-second 34-yard Franco Grilla field goal as time expired, giving the Knights a home game in the second round against William & Mary.
The Knights' offense couldn't be stopped, gaining a season-high 578 yards in a 52-38 win. Sean Beckton accounted for three touchdowns - two were on the receiving end from quarterback Ron Johnson, the third was a 76-yard flea flicker touchdown pass to fellow wide receiver Shawn Jefferson.
UCF would lose the next week in the I-AA semifinals to Georgia Southern, who would go on to win the national championship.
For many years, the high-water mark of UCF football was that 1990 season. The victory against William & Mary gave UCF its 10th win, something that wouldn't be matched until 2007.
UCF vs. Eastern Kentucky - Aug. 31, 1995

Win, 40-32 (Attendance: 13,422)

UCF shocked the recruiting world when they signed Ocala's Daunte Culpepper, Florida's Mr. Football, earlier in 1995. Culpepper started at quarterback as a true freshman, beginning with the home opener against Eastern Kentucky.

In a game that was televised live statewide by Sunshine Network, Culpepper impressed the audience (including Hall of Fame QB Joe Namath) by completing 20 of his 25 passes, including his first 12, for 254 yards and three touchdowns. UCF upset No. 5 EKU 40-32 and Culpepper earned Sports Network Offensive Player of the Week honors.
"I just saw this kid named Daunte Culpepper," Joe Namath said shortly after the game during an appearance on Pete Rose's radio show. "He's from the University of Central Florida, and he's the best passer I've seen in I can't remember how long, except for maybe Dan Marino. I grabbed my wife and said, 'Watch this kid's footwork. Look at him throw."
UCF vs. Idaho - Sept. 20, 1997

Win, 41-10 (Attendance: 41,827)

UCF had elevated to Division I-A the year earlier, but it was 1997 that they felt they truly arrived.

The Knights made headlines with three close calls in road games to begin the year. In overtime at Ole Miss, Daunte Culpepper tripped on the foot of his own offensive lineman falling just one foot shy of scoring on a two-point conversion that would have won the game.

The following week UCF had another SEC foe on the ropes, South Carolina, but the Knights would end up losing by two points, 33-31.

A week later, No. 6 Nebraska couldn't believe it when they went into their locker room at halftime trailing UCF 17-14. The Huskers, led by quarterback Scott Frost, eventually won 38-24.
Orlando came out in full force for the first home game a week later. A then-record 41,827 fans showed up for a night game at the Citrus Bowl against Idaho, but thousands more may have been turned away as staffers were unprepared to handle the massive walk-up sales.
As for the game, Daunte Culpepper had another big performance and led UCF to a 41-10 victory. But more importantly, it showed that UCF was capable of big time fan support. It took another three years (UCF vs. Virginia Tech in 2000) before that attendance record was broken.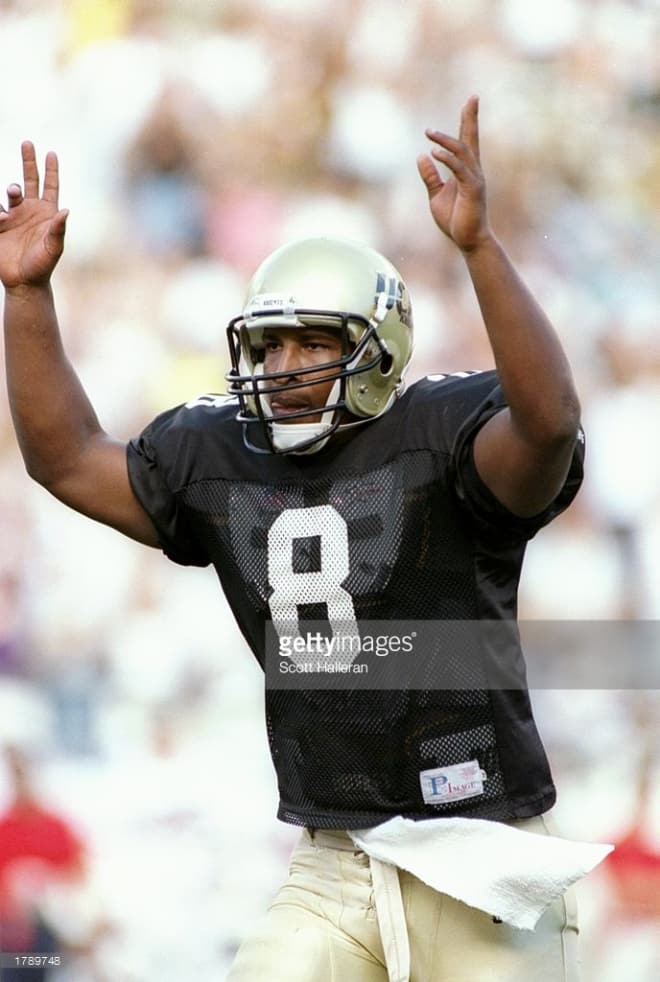 UCF vs. Toledo - Nov. 22, 1997
Win, 34-17 (Attendance: 15,062)
Could this be the final UCF game for quarterback Daunte Culpepper?
Amid rumors that the junior quarterback was exploring his NFL draft possibilities, the Knights welcomed 9-1 and MAC West winner Toledo for their regular season finale. The Rockets had been ranked as high as No. 18 earlier in the season before a loss knocked them out of the polls.
UCF's scoring got going early with a kick return for touchdown from Paul Miranda, then Culpepper guided the Knights the rest of the way for a 34-17 victory amid chants of "One more year," from the home crowd.
The following Monday, Culpepper announced he would return to UCF for his senior season.

"This program is building so fast, and I felt that this program probably needed me more than the NFL needed me," Culpepper said.

UCF vs. New Mexico - Nov. 21, 1998
Win, 38-6 (Attendance: 19,025)

The end of an era.
The final game for senior quarterback Daunte Culpepper, though that wasn't apparent at the time. There was hope the 9-2 Knights would earn a berth to their first ever bowl game and for a while things did look promising. Afterward they accepted a "conditional" invitation to the Oahu Bowl in Hawaii with the condition being then-undefeated and No. 3 UCLA take care of business against Miami, a game being played the first weekend of December because of a hurricane postponement.
Miami would go on to upset UCLA, 49-45. There would be no bowl game.
As for the final game against New Mexico, several of the Knights' seniors would have games they'd never forget.
Culpepper completed 23 of his 32 passes for 263 yards and two touchdowns, adding another 94 rushing yards on 18 carries, padding the school records he'd already set. He received standing ovations multiple times throughout the course of the game but none bigger than his final walk to the locker room.
Senior wide receiver Siaha Burley had a career game, finishing with 228 all-purpose yards which included a 91-yard punt return for a touchdown.
A few moments after postgame handshakes, senior linebacker Mike Palmer ran to the stands where he proposed to his girlfriend, Jennifer. She said yes.
UCF vs. Purdue - Sept. 4, 1999

Loss, 47-13 (Attendance: 40,112)

Opening the season with a big game was nothing new for the Golden Knights, but for the first time ever the game was at home. 40,112 fans came out to see UCF face No. 22 Purdue, which was the first ranked team to ever visit the Citrus Bowl.
UCF scored on its opening drive, but it was all Purdue and quarterback Drew Brees after that as the Boilermakers won, 47-13.
The loss snapped a 11-game home winning streak. It was also memorable in the fact that Purdue brought a large number of fans to the game (estimated to be about 5,000). Two of those Purdue fans, who perhaps weren't accustomed to beer being sold in a football stadium, embarrassed themselves as they ran on to the field during the fourth quarter. It took security personnel and Orlando police several minutes to contain the pair, who were then promptly escorted to jail.
UCF vs. Nicholls State - Oct. 16, 1999
Win, 28-0 (Attendance: 13,875)

On the surface, nothing is all that remarkable about a shutout against an I-AA opponent. But if you were at the game, odds are you still remember it to this day.
Before there was the "Marshall Monsoon" of 2011, there was the hurricane game against Nicholls State. Specifically, Hurricane Irene.
Orlando was north of the projected path so school officials kept the game on as scheduled, thinking the storm would push through by the nighttime kickoff. Almost. The Citrus Bowl was lashed by feeder bands during the pregame, prompting a decision to delay kickoff by one hour. Heavy winds and rains persisted throughout the course of the game, but no lightning meant it was safe to play.
With the rushing game being the focus, Eddie Mack ran for 108 yards on 17 carries with two touchdowns.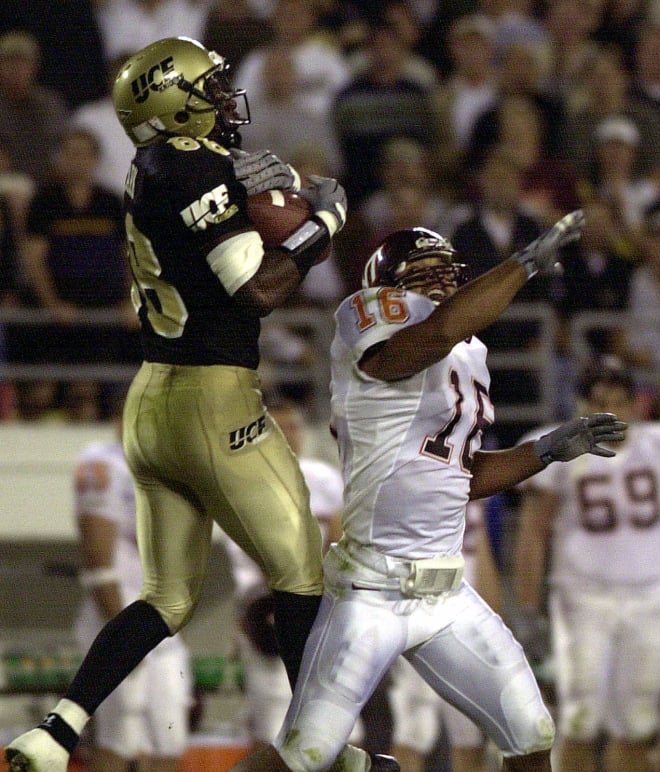 UCF vs. Virginia Tech - Nov. 11, 2000
Loss, 44-21 (Attendance: 50,220)

Big game? Yes. Big attendance? Yes. Memorable result? No. Just a couple weeks after UCF's landmark win at Alabama, the Knights hosted No. 8 Virginia Tech, the highest-ranked I-A team to ever visit the Citrus Bowl.

A record crowd of 50,220 (later eclipsed by the 2005 C-USA championship game) saw UCF turn the ball over six times in a 44-21 loss to the Hokies. Many fans were anxious to see Michael Vick play in person, but Tech's Heisman hopeful quarterback sat out the game with an injury.
UCF vs. Akron - Nov. 3, 2001

Win, 57-17 (Attendance: 15,779)

There may not have been a more fired up UCF team than the one that rushed out on the field against Akron in 2001.
Coming just two days after UCF accepted a bid to join the MAC for football-only, which would become effective the following year, a future conference and divisional rival- the Akron Zips -came down to Orlando.

Akron coach Lee Owens was quoting in their newspaper to say he wanted to give UCF a "brass-knuckle welcome" to the MAC. He later denied he made the remark, but the match was lit.

"Coach Owens, who I have a lot of respect for, kind of cast the first stone during the week," UCF head coach Mike Kruczek said at the time. "I got a little report from a Cleveland paper and he said, 'Well, we're going to give them a brass knuckle welcome to the MAC conference. We want to set a precedent.
"I didn't put it up on the bulletin board, I took it to practice and read it. I was fearful that they wouldn't see it."
Then during pregame warmups, Akron's players assembled at midfield to stomp on the UCF logo. Kruczek, and his players, were beyond livid.
"The kids were already lit, but the flame went as soon as (Akron) went to the middle of the field," Kruczek said.
The Knights destroyed Akron. UCF scored a team record 50 points in the first half, then called off the dogs in the last 30 minutes before winning, 57-17. Ryan Schneider (273 passing yards) and Alex Haynes (112 rushing yards) both had big days.
"These kids play emotional football and they play emotional football particularly in this stadium," Kruczek said.
UCF vs. Toledo - Oct. 19, 2002

Loss, 27-24 (Attendance: 18,812)

Since that first season in 1979, the UCF football program had never belonged to a conference, always an independent. That changed in 2002 when UCF joined the Mid-American Conference as a football-only member.

The Knights had played several MAC teams each season in the early years of I-A so why not have the games actually matter?
UCF had played Toledo before, but this matchup was now a conference game. As the first ever conference home game, UCF's marketing department went to work promoting the "MAC in Black" game, encouraging fans to "black out" the stadium.
The result wasn't memorable as Toledo won 27-24. UCF had no answer for the Rockets' running game which amassed over 300 yards on the ground.
Though UCF had lost to Marshall on the road earlier in the season, had they found a way to beat Toledo, they would have been in the MAC Championship Game as winners of the East Division.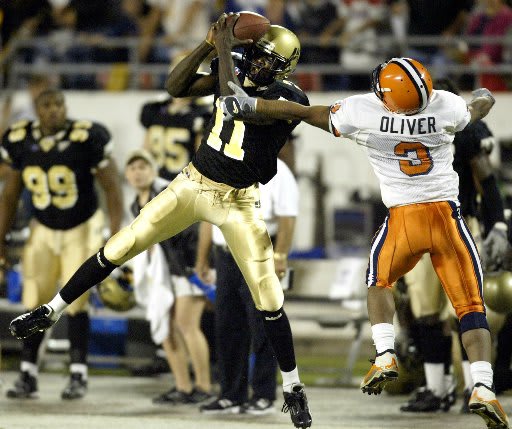 UCF vs. Syracuse - Nov. 2, 2002

Loss, 38-35 (Attendance: 24,043)
There was no way UCF could lose this game, right? Syracuse came into the contest struggling with a 2-5 record. UCF was licking their chops, looking to get that first ever home win against a BCS opponent.
The Knights' offense exploded out of the gate, extending to a 21-3 lead late in the second quarter. The second half would tell a different story. Even though Ryan Schneider set a UCF record with 440 passing yards, the Knights had to settle for field goals twice during drives in the second half and had no answer for 'Cuse running back Walter Reyes as the Orangemen came back to win the game, 38-35. UCF finished 7-5 that season and 6-2 in the MAC.
UCF vs. Marshall - Nov. 19, 2003

Loss, 21-7 (Attendance: 18,141)
The Marshall game in 2003 isn't memorable because of the game itself, but more so because of off-the-field issues at the time. Not only was it UCF's first nationally televised (ESPN2) home game, it was the first game after head coach Mike Kruczek was fired.
Alan Gooch, who today is the director of the Cure Bowl, had been named interim coach. The Knights were playing without senior quarterback Ryan Schneider, who had been recently suspended for academic issues. True freshman Steven Moffett started in his place, scoring UCF's only touchdown on a long touchdown run in a 21-7 loss.

It was also the first home game following the announcement that UCF would be joining Conference USA as a full sports member, to be effective in 2005.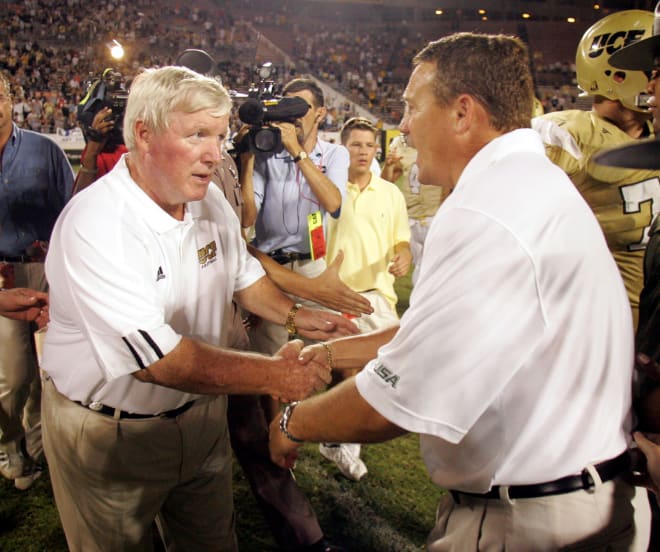 UCF vs. Marshall - Sept. 24, 2005

Win, 23-13 (Attendance: 22,217)
The game that ended the streak.

In the second year under new head coach George O'Leary, UCF was in the midst of the nation's longest losing streak. The Knights had lost 17 straight games, including a particularly crushing defeat a week earlier at rival South Florida, and fans were wondering when things would begin to move in the right direction.
The Knights opened up the season with losses at South Carolina and USF, but UCF had looked like a much better team than the 0-11 squad in 2004.

UCF jumped out to a 17-0 lead on a touchdown pass from Steven Moffett to Brandon Marshall, followed by a Kevin Smith touchdown run and then a Matt Prater field goal. Prater added two more field goals in the second half and the defense held on for a 23-13 win.

When the clock hit zero, thousands of fans, mostly students, stormed the field and dismantled the South end zone goal post, which eventually made it to campus and into the reflection pond.
It was the start of something special as UCF would go on to win eight of their next nine games, won the Conference USA East Division and appeared in the first ever bowl game.

Sadly, the game was also marked by tragedy. During tailgating festivities before kickoff, UCF police officer Mario Jenkins was accidentally shot and killed by an Orlando police officer. Jenkins, who was working undercover to curb under-aged drinking, brandished his weapon during an arrest. The OPD officer, who approached the scuffle, did not realize the armed Jenkins was a member of law enforcement and opened fire.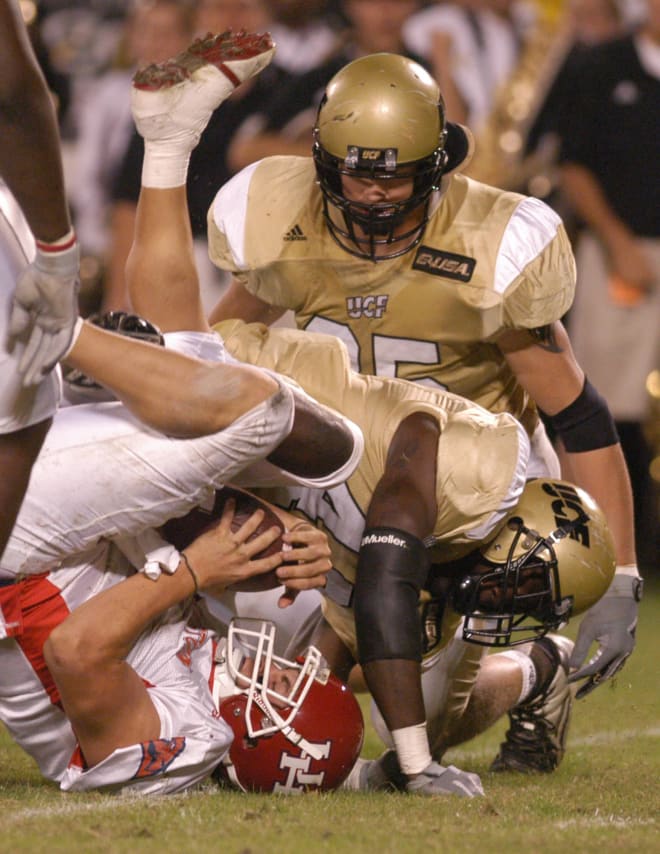 UCF vs. Houston - Nov. 5, 2005

Win, 31-29 (Attendance: 32,635)

The 2005 season was memorable for many reasons, but perhaps the biggest win of them all came on this date against Houston. The 31-29 victory against the Cougars gave UCF the needed sixth win for bowl eligibility and moved them one step closer to their goal of capturing the C-USA East Division.

The fans played their own role in the win as well. As Houston was driving late in the fourth quarter for what would have been the game-winning score, the crowd of 32,635 made things difficult for the Cougars and quarterback Kevin Kolb. The drive began with a Paul Carrington sack, then Kolb threw three incomplete passes. After the game, UH head coach Art Briles said they had difficulty communicating during the drive because of crowd noise.
UCF vs. Tulsa - Dec. 3, 2005

Loss, 44-27 (Attendance: 51,978)
UCF's 7-1 league record earned the Knights the right to host the inaugural Conference USA Championship Game in 2005. By securing the East Division on Nov. 19 with a win at Rice, UCF had two weeks to prepare (and sell tickets) for the big game against West Division winner Tulsa.
51,978 fans - the most ever in UCF history - came out to see the contest between the Knights and Golden Hurricane that had a Libert Bowl berth on the line.
The result wasn't what most of those fans wanted as UCF lost 44-27, but the consolation prize was a trip across the Pacific to play in the Sheraton Hawaii Bowl. Not too shabby for a team that finished 0-11 a year earlier.
UCF vs. Pittsburgh - Oct. 13, 2006
Loss, 52-7 (Attendance: 35,858)

The game was over as soon as it started.
Playing on a Friday night on ESPN2, Pittsburgh ran back the opening kickoff to go up 7-0. A fumble on UCF's next possession quickly resulted in another Panthers' touchdown. UCF kept turning the ball over. Pittsburgh kept making them pay. The halftime score was 38-0. Pittsburgh never punted the entire game.
UCF wore black jerseys for the first time in the George O'Leary era. They disappeared for several years after that, not reappearing until late in 2009.