UCF unveils new jerseys and helmet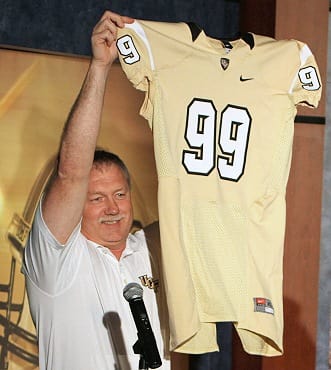 As promised, UCF unveiled their three new Nike football jerseys at Tuesday's "Hometown Huddle" fan event.

O'Leary emphasized UCF's primary white helmet isn't going anywhere. The new black helmet will only be used for special occasions.
The pants have yet to arrive, but potential color combination mockups, includnig an all-black look, were shown on the video monitors.
O'Leary stressed the need for increased fan support both home and away.
During the fan Q&A session, a question was posed to O'Leary about adding names to the backs of the jerseys. He acknowledged he'd be open to doing it if a majority of fans wanted to see it.