UConn coach wants trophy game with UCF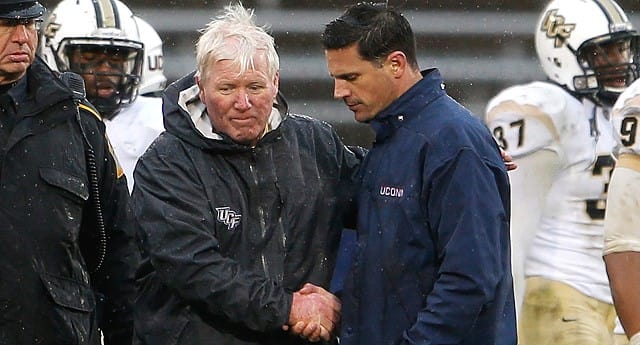 Could UCF and UConn be a rivalry in the making? That's the hope of first-year Huskies coach
Bob Diaco
, who envisions a future trophy game pitting the North and South members of the American Athletic Conference.
In their first ever meeting in Orlando last year, the Knights beat UConn handily by the blowout score of 62-17. But the Huskies got the last laugh in East Hartford over the weekend, upending the defending league champions 37-29 on a wet and miserable day with feel-like temperatures in the 30s. It was UConn's first win against an FBS team this season and represented UCF's first loss in the American, an 11-game winning streak that had dated back to 2013.
During Monday's American coaches teleconference, Diaco spoke several times of his respect for UCF coach
George O'Leary
's football program.
"I am so respectful and almost kind of in awe of Coach O'Leary and his teams," Diaco said. "Once he had a chance to get that thing rolling down there, he's been great or good to great every year. As long as he's at the helm, they'll always be good to great. As I'm watching the team, I'm actually talking to our team saying, 'Hey, you're going to enjoy watching these guys. These guys play football like we want to play football.'"
"It was so good that at the end of the week, for me, if they'd oblige, I thought win, lose or draw, that I would make a statement that I would like to create a rivalry game," Diaco said. "Out of respect, not one out of silliness. Out of respect. I think the conference needs that. That's just me personally. No one has said it to me from the conference. That may be just me.
"I played and coached at Iowa. We played Minnesota for
Floyd of Rosedale
. Then I was at Cincinnati and we played Louisville for
The Keg of Nails
. At Notre Dame, we played USC for the
Shillelagh
. We need something. I don't know. Maybe some other teams have something. Maybe Central (Florida) has got something with South (Florida). I'm not sure about that.
"But to me, if they were looking to separate themselves a little bit from some of that Southern stuff, it might be kind of cool, like a North vs. South kind of rivalry. I'd be excited about that where a trophy is exchanged. Actually out of respect for Coach O'Leary and his program. They're just awesome. I know what a great energy it would create if it was a rivalry game for our program."
O'Leary seemed receptive when he was asked about Diaco's idea.
"I'm always in favor of rival type situations," O'Leary said. "I think that's what makes a conference good. I think every game is a rival game. Anything coaches want to develop that way, I'm always in favor of that. I think that's what it's about. I think if you can get those type of games going I think that's great for the conference. I have no problem with it whatsoever."
Then with a bit of a chuckle, O'Leary ended with this:
"I'd be anxious to get him down at our place next year."
UPDATE:
My original story was based off Diaco's comments in Monday's American teleconference. It has come to my attention that Diaco talked up the potential rivalry to the local media immediately after Saturday's game as well as
again on Sunday
. He even has a name for it - "The Civil Conflict" - and already has a design in mind for the trophy.
"We're excited about this game. I mean it. I'm excited to continue this game. With all admiration and respect. All admiration and respect for Central Florida and Coach O'Leary. They're spectacular. But we're excited about this North/South battle. You want to call it the Civil Conflict? Maybe I'll win my money and make a trophy. I'll buy it myself. Put a big giant Husky and a big giant Knight on it. Make a stand. Put it in our hallway. The Civil Conflict. The loser, maybe they've got to put nutmeg on the stand when it's not there and we'll put a sack of oranges.
"With all due respect. I'm just trying to say I have admiration and respect for Central Florida and Coach O'Leary. We point towards that program as a program on how to operate. We're going to look at that program to say these guys do it the right way. These guys play the kind of football we want to play and they play it every week. We're excited about this contest and this North/South conflict."

***UCFSports.com offers the most comprehensive coverage of the Knights that you can't find anywhere else. Get breaking team and recruiting news, in-depth interviews and exclusive photos from practice and games plus access to popular Dungeon message board. Give us a try with a 30-day free trialClick Here to view this Link.. After that, monthly subscriptions are only $9.95/month.

Click
Here
to view this Link.