Week Five Preview - Are the Knights Back?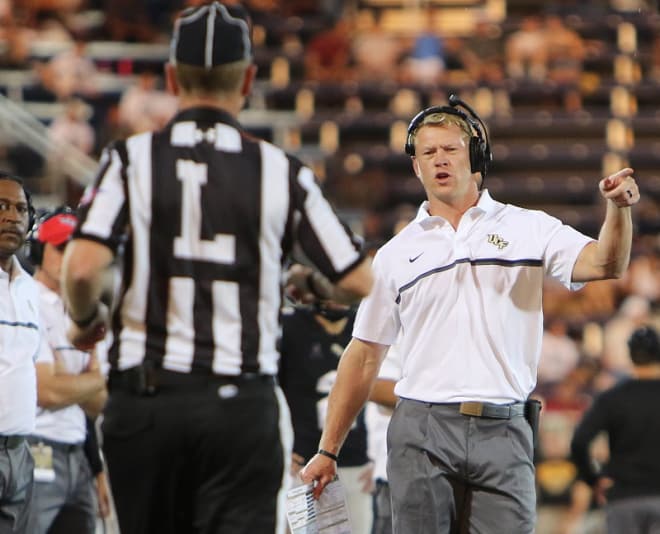 After four games, this much is clear: UCF has vastly improved in year one under Scott Frost.
The Knights are 2-2, coming off a 53-14 thrashing of FIU. They could easily be 3-1 had another play gone their way in a double-overtime loss to Maryland the previous week.
Though still just one game, a win at East Carolina on Saturday would be a clear statement that the Knights are back to being a team to be reckoned with in the American Athletic Conference.
"My goal still is to win the conference championship," offensive tackle Aaron Evans said. "We're improving each and every week. We had a stalemate against Maryland. It was a slug fest. It's going to be a slug fest this week. I'm excited for this season and this opportunity. Last year was a fluke."
While nothing is a given, a win could potentially put UCF on a path to make a run in their early conference schedule. Following ECU, there's a winnable two-game homestand against Tulane and Temple, then a road game at UConn. If UCF hopes to make a bowl, they likely need to win three of the next four. The latter third of the schedule is much more difficult with road games at Houston and USF and a home game with Cincinnati.
For UCF's juniors and seniors, Saturday's trip to ECU also brings back memories of one of the greatest wins in school history. In the final regular season game of 2014, on the brink of a crushing defeat, UCF fought for another possession which allowed Justin Holman to find Breshad Perriman on a Hail Mary touchdown pass as time expired, clinching a conference championship.
"It was crazy," cornerback Shaquill Griffin said. "It was a battle through the whole game, then with the last catch, it definitely was nerve-wracking. I'm pretty sure everybody's heart dropped when it happened. That was a great year. One of our great years. I feel like this year can be the same."
Here's a look at every game involving the American. Picks made are head-to-head and not factoring in the spread.
THURSDAY, SEPTEMBER 29
UConn (2-2, 0-1 AAC) at No. 6 Houston (4-0, 1-0 AAC)
8 p.m., ESPN
The Buzz: Houston will no doubt be looking for a little bit of payback since UConn was the only team in 2015 to hand the Cougars a loss, a 20-17 decision in East Hartford. UH QB Greg Ward Jr. didn't play much in that game due to injury. The Cougars are trying to make a case for inclusion in the College Football Playoff, so they know all eyes will be watching just as they were a couple weeks ago when they traveled to Cincinnati on a Thursday night. UH is coming off a 64-3 drubbing of Texas State. UConn meanwhile lost a 31-24 game to Syracuse last week.
The Line: Houston by 28
The Pick: Houston
SATURDAY, OCTOBER 1
UCF (2-2, 0-0 AAC) at East Carolina (2-2, 0-0 AAC)
12 noon, CBS Sports Network
The Buzz: Aside from USF, perhaps UCF's biggest rival within the AAC. ECU holds a 10-4 advantage in the series, but did see the Knights win a 2014 thriller in Greenville thanks to Justin Holman's Hail Mary to Breshad Perriman at the end of regulation. Though it's still early, both teams show loads of potential under first-year coaches and appear like they could outperform preseason expectations. ECU defeated NC State earlier in the year and almost beat South Carolina. A game last week at Virginia Tech wasn't as friendly as the Pirates dropped that one 54-17. UCF beat South Carolina State, lost by a wide margin at Michigan, dropped a double-overtime contest to Maryland and is coming off a 53-14 win at FIU. ECU's Tay Jones is second in the NCAA averaging 12.3 receptions per game. UCF LB Shaquem Griffin has four sacks, 5.5 TFL and 24 total tackles.
The Line: ECU by 4
The Pick: UCF
SMU (2-2, 0-0 AAC) at Temple (2-2, 0-0 AAC)
12 noon, ESPNews
The Buzz: Previous games between the two schools have generated some high scores. In 2013, SMU won 59-49 while Temple was a 60-40 winner in 2015. SMU's two losses this season have come against Big 12 schools, including a 33-3 loss to TCU last week. Just like their game against Baylor, SMU played tough for a half before wilting in the second half. Temple is coming off a 48-20 win against FBS newbie Charlotte. Owls RB Jahad Thomas has four rushing touchdowns in the last two games.
The Line: Temple by 12.5
The Pick: Temple
Navy (3-0, 2-0 AAC) at Air Force (3-0)
3:30 p.m., CBS Sports Network
The Buzz: The first game in the Commander-in-Chief's Trophy series pitting Army, Navy and Air Force. Army is pretty bad, so the Navy-Air Force winner has won the Trophy every year since 1997. Navy beat Air Force last season 33-11. As for this year, Navy is off to a solid start with wins against UConn and Tulane in conference play, winning both in the final minutes. Their option-based offense ranks fifth in the nation with 316.3 ypg. Air Force has defeated Abilene Christian, Georgia State and Utah State to start the season. Their 359.3 ypg rushing mark is second in the country.
The Line: Air Force by 7.5
The Pick: Air Force
Tulane (2-2, 0-1 AAC) at Massachusetts (1-3)
3:30 p.m., ASN / ESPN3
The Buzz: It took Tulane four overtimes to beat Louisiana-Lafayette last weekend, 41-39. UMass, expelled from the MAC, plays as an FBS independent. They hosted Mississippi State last weekend, losing 47-35 though they did have a second half lead before the Bulldogs pulled away. UMass also played a competitive game against Florida at the beginning of the season.
The Line: Tulane by 2.5
The Pick: UMass
Memphis (3-0, 0-0 AAC) at No. 23 Ole Miss (2-2, 1-1 SEC)
7 p.m., ESPN2
The Buzz: If Ole Miss didn't blow second-half leads to Florida State and Alabama, they could be sitting pretty at No. 1. They're still a pretty good football though, led by senior QB Chad Kelly, and trounced Georgia 45-14 last week. Memphis hasn't skipped a beat after losing coach Justin Fuente and QB Paxton Lynch. The competition has been suspect, but they've put up impressive numbers in all three of their wins: Southeast Missouri State (35-17), Kansas (43-7) and Bowling Green (77-3). Again, suspect competition, but the Tigers are still ranked No. 5 in the nation in scoring offense (51.7 ppg). QB Riley Ferguson leads the AAC in passing efficiency.
The Line: Ole Miss by 14.5
The Pick: Ole Miss
USF (3-1, 0-0 AAC) at Cincinnati (3-1, 0-1 AAC)
7 p.m., ESPNU
The Buzz: An early season contest that could have AAC East ramifications down the line. Cincinnati, with a loss on the books already from Houston, can't afford to drop a second conference game. The Bearcats didn't look all too impressive in a close 27-20 win against Miami-Ohio last week. They started QB Ross Trail last week while Hayden Moore recovered from an ankle injury. USF, the East Division favorite, looks to rebound following last week's 55-35 loss to Florida State. They had dominated in their other wins against Towson, Northern Illinois and Syracuse.
The Line: USF by 5.5
The Pick: USF