Jermaine Taylor returns to Orlando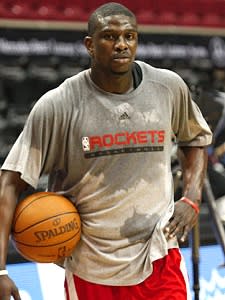 Taylor scored two points on 1-of-5 shooting from the field and grabbed one rebound after checking in with one minute and 52 seconds to go in the third quarter with the Rockets trailing, 76-62.
It was a special night for Taylor who spent extra time in pregame warm-ups working on his game trying to stay sharp and ready for when his number would be called. His former college coach,
Kirk Speraw
, attended the game with his family.
"Coach Speraw and the coaching staff did a good job getting me ready for the next level," Taylor said. "A lot of the things they had me working on we do here. I think they did a heck of a job."
For Taylor, it's been an adjustment going from college basketball and life at UCF to the daily grind that is the NBA. He admits it's been a learning experience.
"I'm learning a lot," Taylor said. "I'm working on my game every day and doing what I need to do to be a good player."
Taylor has also had to adjust to life as an NBA rookie, which means no guaranteed playing time. He's played in only nine of Rockets first 29 games, but he says he's always ready to play in every contest.
"I go out there and prepare and work hard before the game and I read the scouting reports," Taylor said.
Taylor made his NBA regular season debut Nov. 2 in Utah and scored his first five points against Dallas on Nov. 10. He says he's learned that patience is key in the NBA.
"I'm going to let my time come," Taylor said. "Coming from UCF I was the man. The offense came through me, but here I am a freshman all over again. I have to start all over again and that's learning process."
This was actually Taylor's second visit to Orlando as the Rockets played the Magic in a preseason contest on Oct. 9. He scored 14 points in 28 minutes of action in that game.
Taylor says he's received advice from the Rockets' veteran players and in particular Shane Battier.
"Shane has taught me a lot, being one of best defenders in the league," he said. "Me, not being so good on defense, I look to him."
Battier thinks very highly of Taylor and says improvement will come with experience.
"He's got a lot of talent," Battier said. "He's learning the game still, but he's eager to learn."
Tracy McGrady was of one Taylor's favorite basketball players growing up and he's now a mentor to the rookie.
"He looks out for me on and off the court," Taylor said of McGrady. "He tells me things I should be doing to get more playing time and how to develop myself into a better player."
McGrady, who is from nearby Auburndale, likes Taylor's potential.
"He has a lot of talent," McGrady said. "He can score the ball. He's just got to keep working hard. It's a tough league."
The biggest advice he says he's given Taylor is to, "Stay hungry."
Taylor, UCF's all-time single season scoring leader and the 2009 Conference USA Player of the Year, says he still follows his former Knight teammates and he isn't surprised by their solid start.
"I said all along they're going to be a great team," Taylor said. "They have a lot talent with the young guys on the team. I have been keeping up with them."
He wore No. 1 at UCF, but now sports the No. 8 jersey for Houston.
"I like it," Taylor said. "It's not like No. 1, but I am getting used to it."
But to many Knights fans, no matter what he does or what number he wears in the NBA, he will always be No. 1 to them.